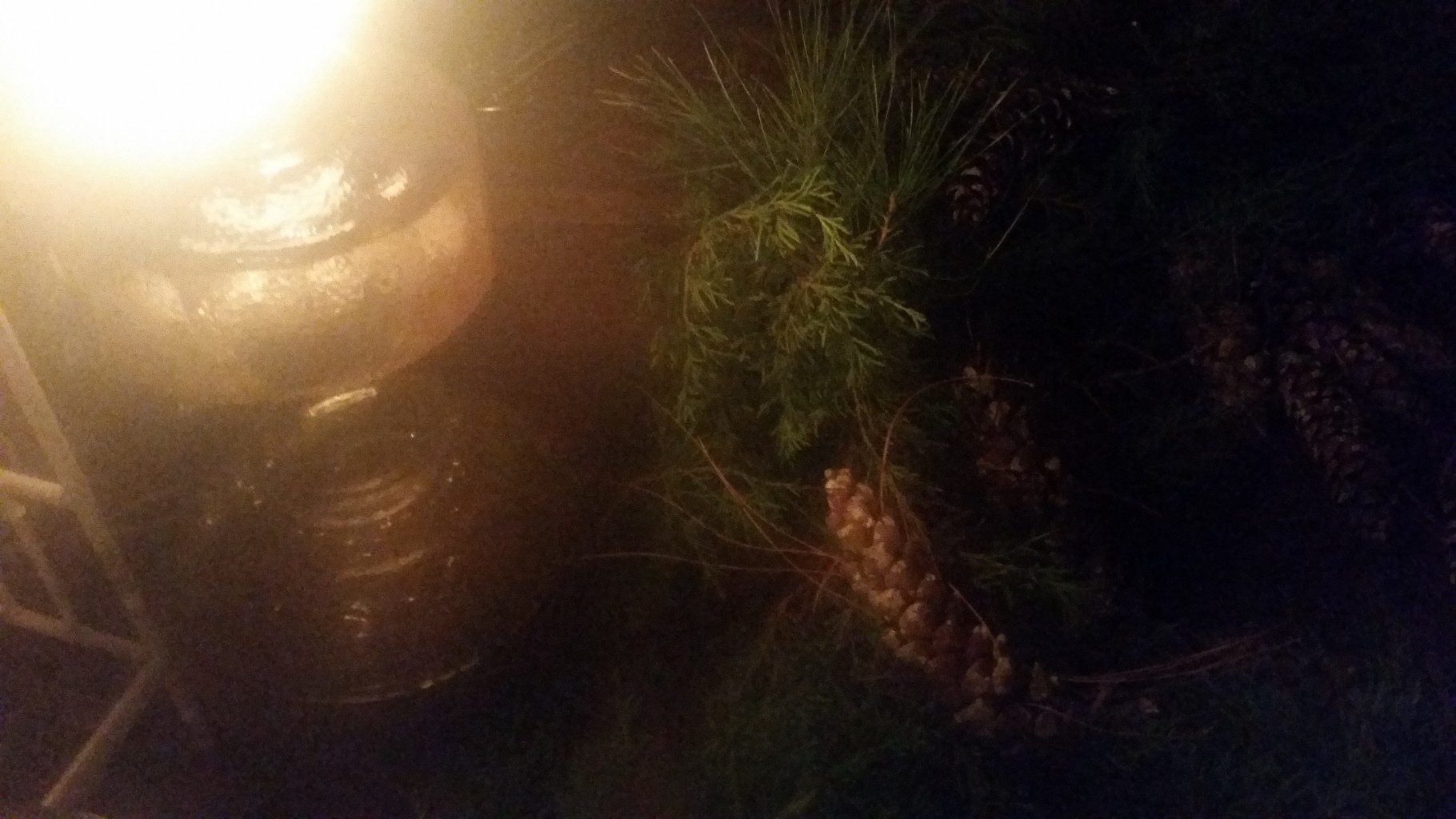 Merry Christmas! It's almost here! Marian is very excited. I am only slightly less so. I've been having lots of fun making up some simple decorations for our home mostly with items that we either gathered from the woods, or already had on hand.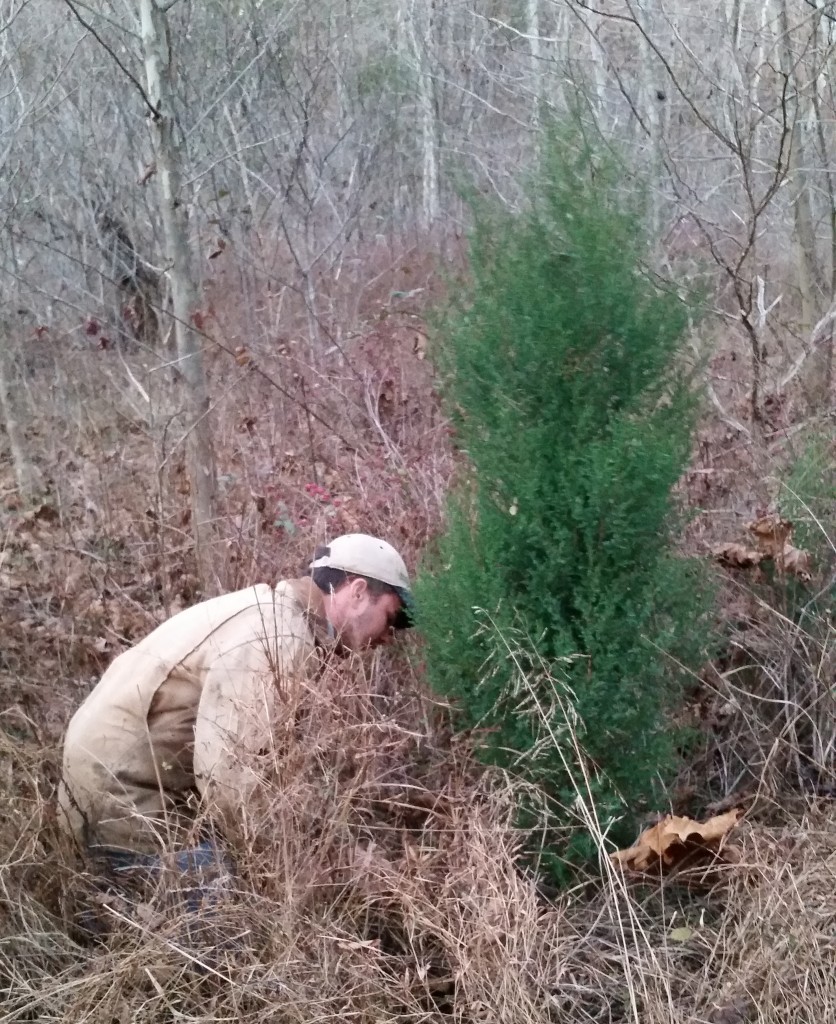 We found the absolutely perfectly shaped, fluffy little cedar tree. I really wanted a little tree for our first tree. (this is our first Christmas at home together!) This one was exactly what I had in mind!
The one thing we did buy was a string of starry lights. I love these so much, they are very tiny and bright and strung on almost invisible copper wire. I love that they just disappear into the tree in the daytime! We got the solar powered option, but there are also battery powered options. In the picture above Jordan and Marian are wrapping the tree in lights. She was so happy we were getting a Christmas tree!
All decorated and glowing!
I used one of my antique 6 gallon crocks for the base. Jordan filled it with rocks and water, and it worked beautifully!
Our tree is decorated with pine cones, candy-canes, strung popcorn, and two types of homemade woods ornaments.  The gold 'stars' are sweet gum balls that drop from the trees in the fall. The silver balls are Sycamore seeds that we found on some low branches. Each of these we gathered and spray painted, then glued red, green, and gold ribbons to each one! I love how they turned out.
I'm hoping to keep most of our ornaments homemade and also new made every year. Most of these 'nature' ornaments just aren't going to last season to season, so I was thinking it would be a fun tradition to have with the kids that we would actually make our ornaments before decorating the tree every year.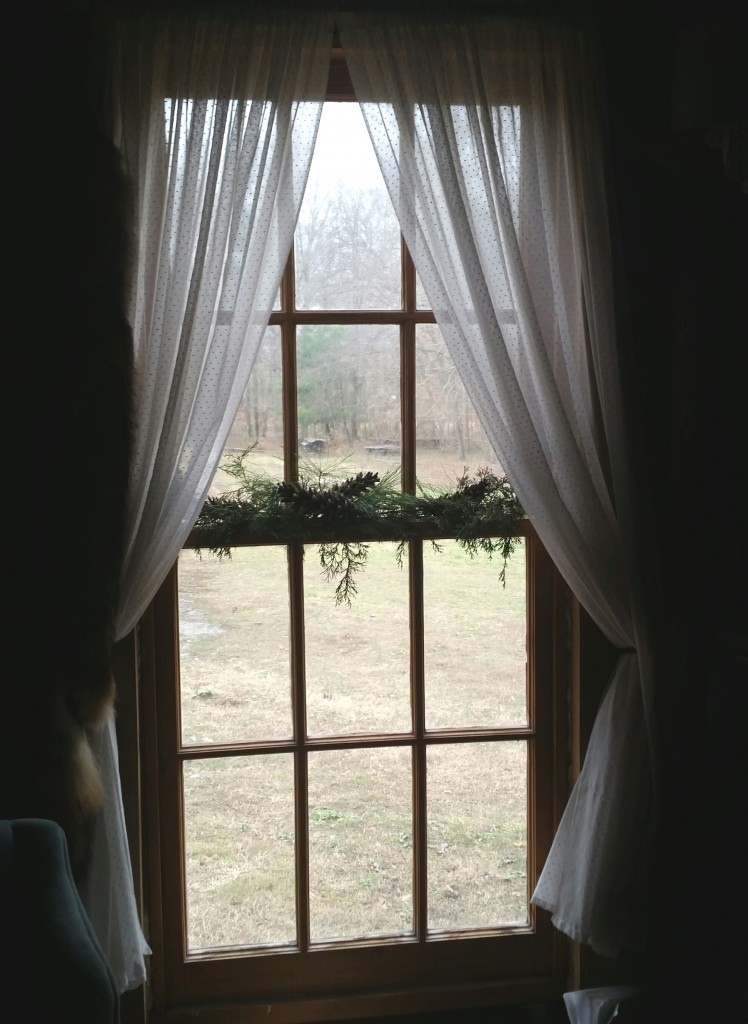 Two windows in the sitting room got decorated with extra greenery and pine cones.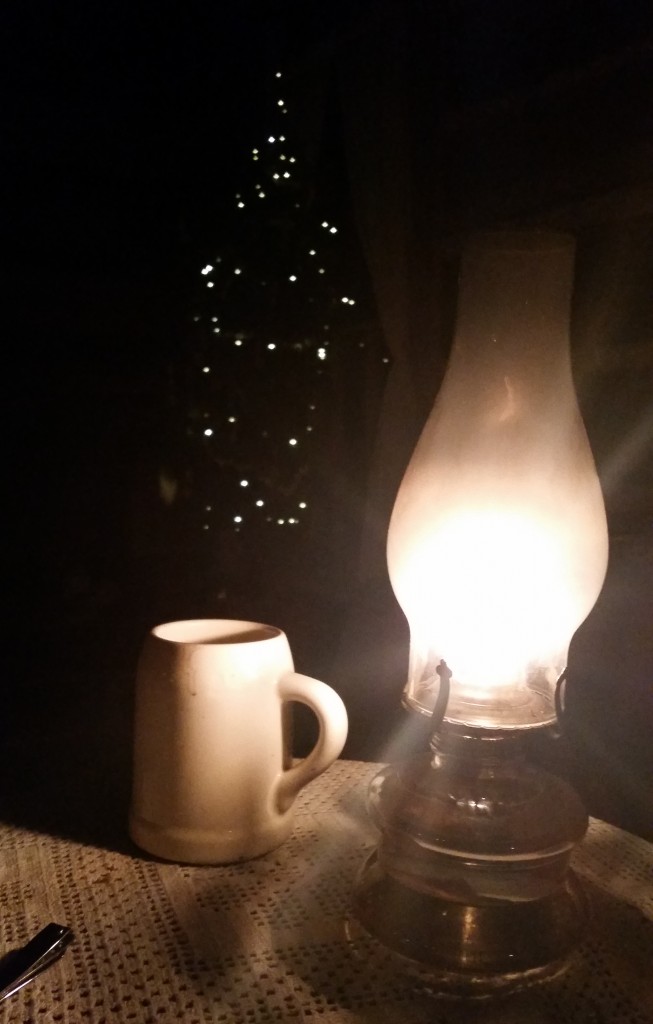 Enjoying the cozy lights with a mug of something hot to drink. We've been drinking lots of coffee, tea, and hot chocolate lately…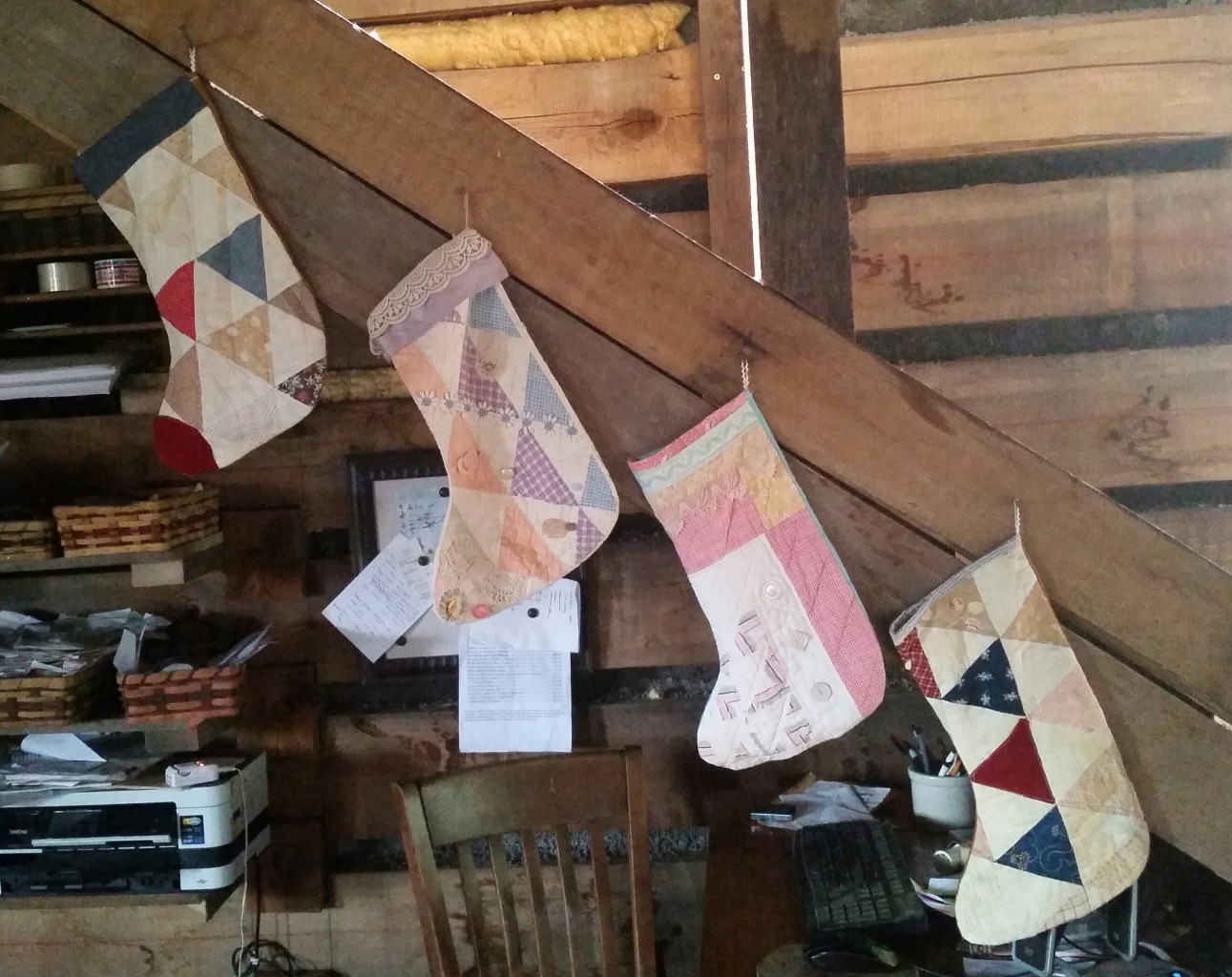 The second stocking down is my stocking – the one I've been using for Christmas all my life. My Granny made it from an old quilt and added buttons and notions. I thought it would be fun to continue the quilt theme, so I added three more stockings for our family also made from vintage 'cutter' quilts I had in my stash.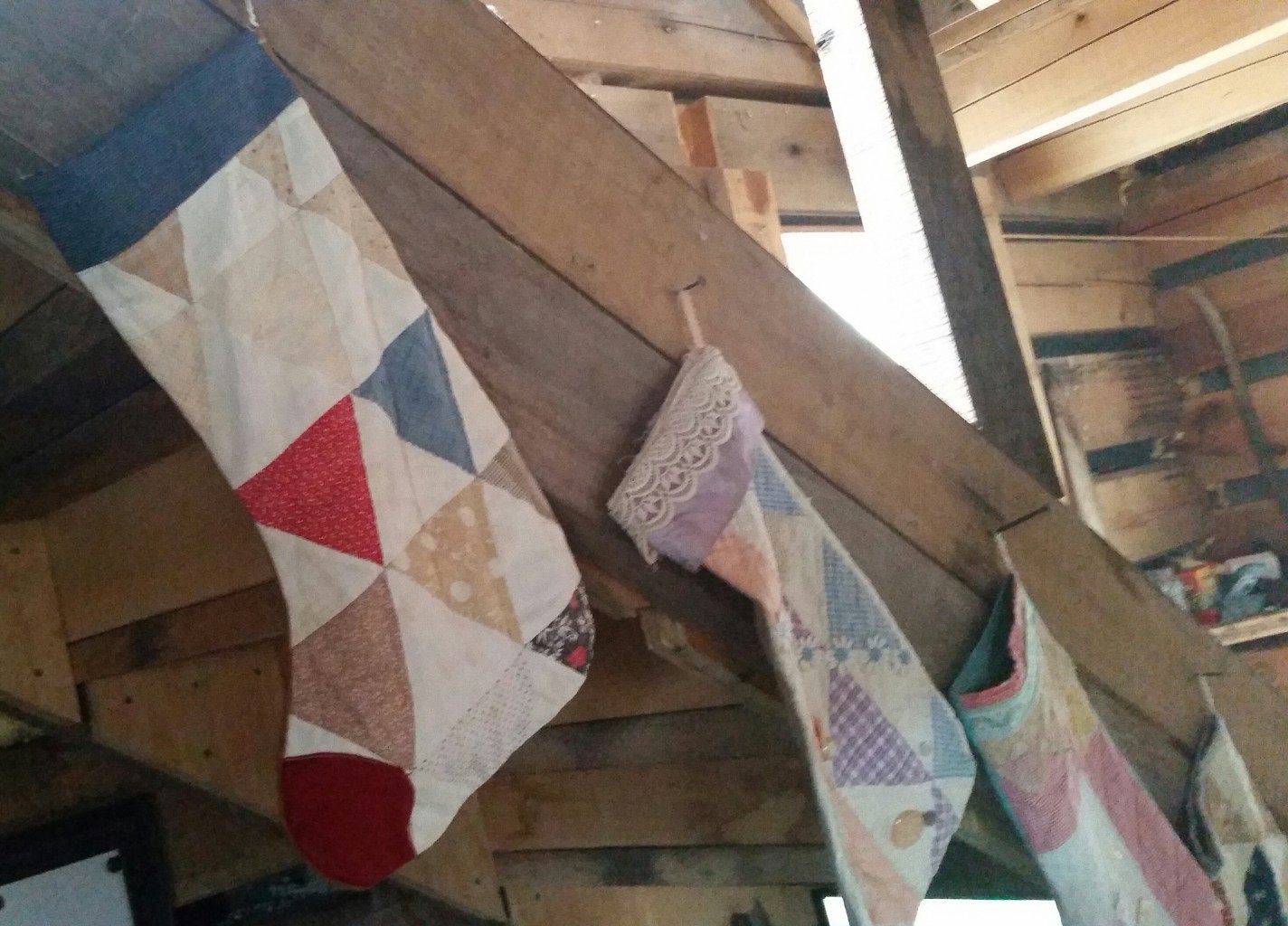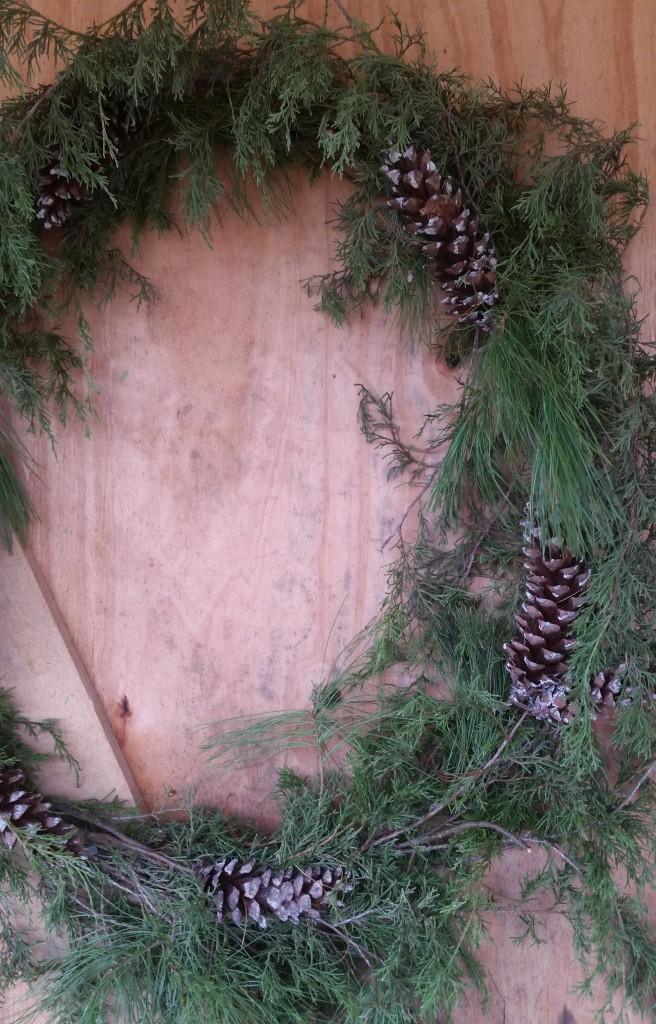 I made a wreath for our door with cedar and pine branches, dotted with a few pine cones here and there.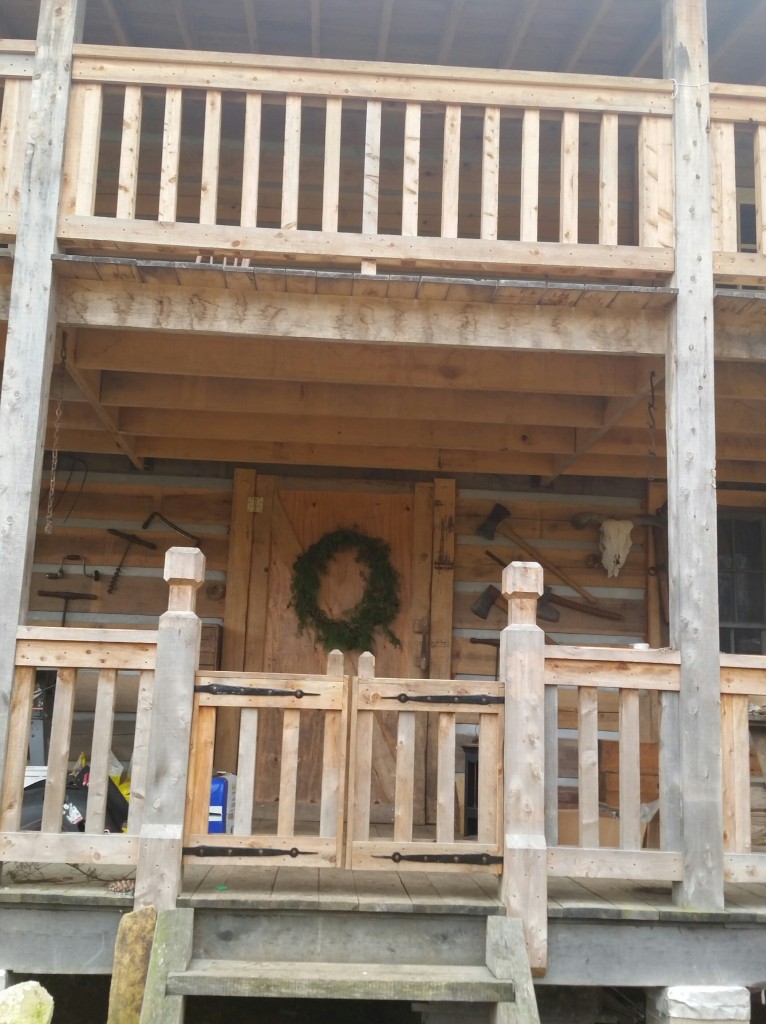 I still have Christmas baking to do, and we still haven't made our Gingerbread house. Will it happen? I don't know. But Christmas is coming anyway!
Last week we breathed a sight of relief as we shipped the last of our Christmas bed orders out. We also made a fun trip into Nashville to do some last minute shopping, then we drove around some well-to-do neighborhoods and ooohed over the Christmas lights (and the houses). And ate pizza. It was sad because both kids fell asleep before we were looking at lights….but Jordan and I had fun!
I have been planning little gifts for Marian and Alan for months. I am so excited for Christmas morning!
Missing my family in Texas this year – but it's also been fun to start a few of our own traditions. It will be fun to see how they develop as our kids get older. What are some of your families favorite traditions? I'd love to hear!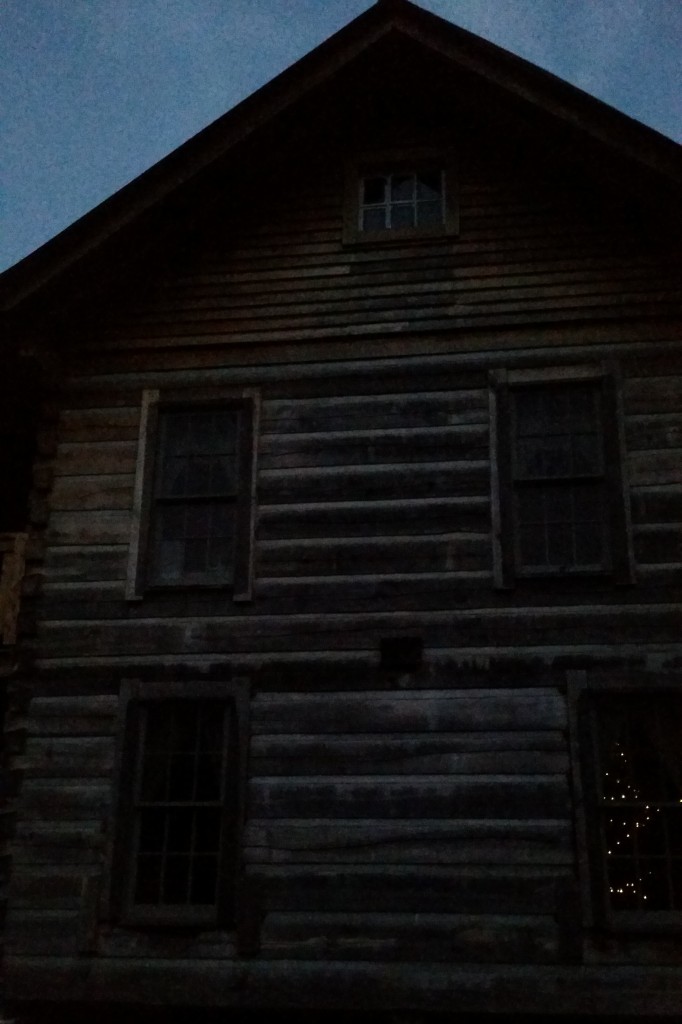 A very Merry Christmas to you from Winshaw!