Hello friends! It's high time for another house update and current tour. We've made some progress on the house over the summer and fall – the most recent big change is walls upstairs! We have also added some furniture and small items since the last house tour in 2014 which you can see here.
But, first things first.
If you were to come in our front door, you would enter into the sitting room –
On the other side of our big open downstairs is the kitchen –
When we add a few more features to the house – such as the summer kitchen, pantry, and have a bigger woodstove – things will be arranged very differently in the kitchen. But for now, what we have works.
Because our current cookstove isn't big enough to heat the house in the winter, we have this barrel stove attached. Eventually it will be moved to Jordan's shop.
Now, continuing to the back room from the kitchen, you will pass my freezer and temporary pantry area. (messy, overflowing ragbag and all…) but hey. At least we have plenty of preserves to last until next blackberry season!
keep going through the next doorway, and you are in the bathroom. We don't have running water here yet, but will someday.
Our clawfoot tub which will one day be painted, and our composting toilet system.
Lets take a quick peek at the front porch, then then we will head upstairs…
once you are up the stairs…you are now greeted with another flight of stairs! These lead to the attic, our third story.
Little peep into the attic – which is just storage right now. When it is finished out it will be bedrooms for the kids.
Back to the 2nd story – turn left into our bedroom.
Walls are coming together! It's so exciting to be able to feel the size of the rooms now! This is a closeup of my closet area. Jordan was able to frame in lots of extra storage space, much more than I was counting on! yay! (please tell me I'm not the only wife who gets excited about closets….)
Bonus picture – Marian was napping in her crib while I snuck around taking these pictures…
Now, through the doorway into my sewing room…which may or may not be my favorite room in the house.
Fabric, research books, iron, patterns and notions all within reach. Heaven.
The last room of the 2nd story is the guest room:
We did finally find a matching window for the hole in this room. When we get that put in I will begin making this into Marian's room. Right now it's mostly a staging area for various projects of mine – here it was being used as a place to organize my purchase of a huge lot of vintage hats for resale.
From the sewing room you can step out on the top porch…
…which has a beautiful view!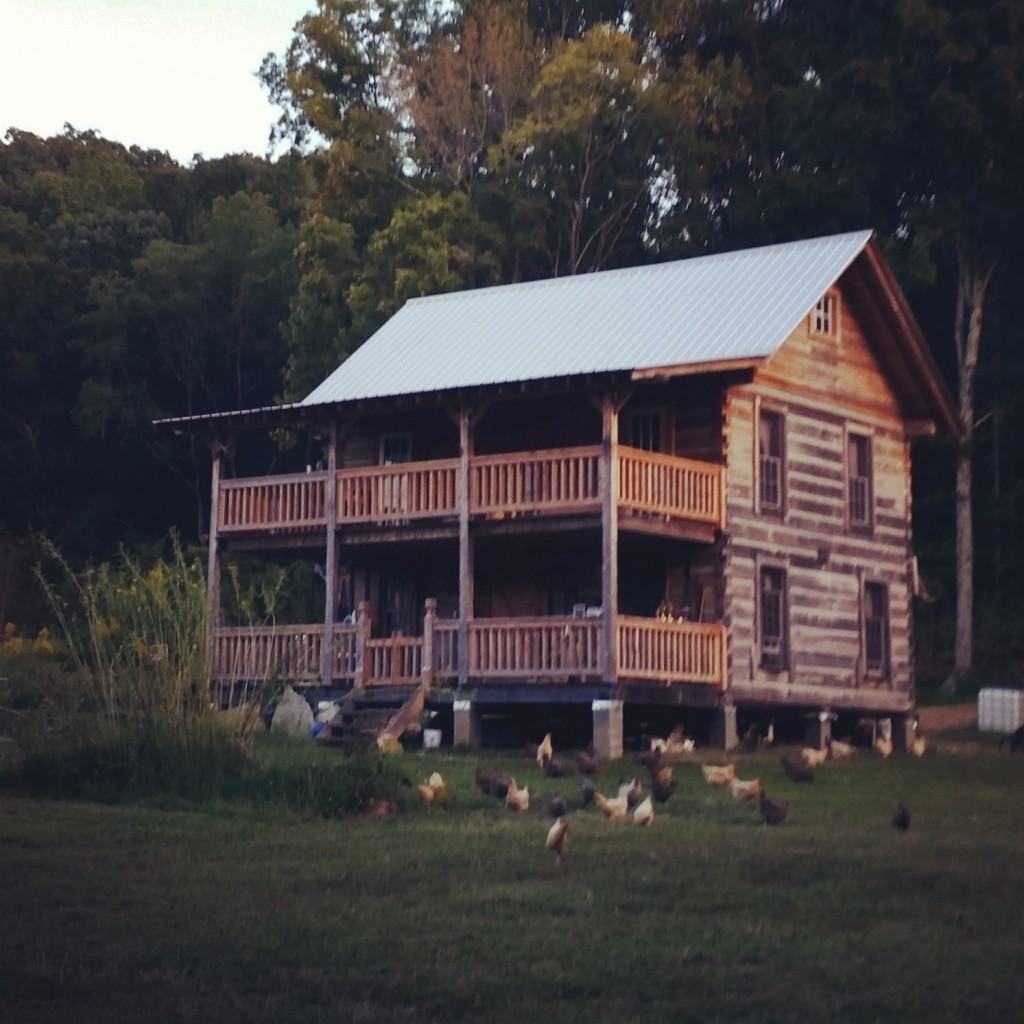 That's our home as of now.